Toronto Movers Who Make It Easy!
Stress-free! Guaranteed! Priced Right!
Sueland Moving would like to thank their valued clients!
In a Word... AMAZING!! During a recent office move Sueland Moving was given the task to move us from our old location to our new home. I found the staff super efficient and curious. They went above and beyond to make a stress filled day as smooth as possible. Whatever task was asked of the crew they executed it with what seemed to be effortless.The most amazing aspect was the ability to solve problems and come up with solutions on the spot. After the job was completed they returned the next day just to require if everything was acceptable. I recommend Leyland and his crew at because of my positive experience.
Rick Halsall
I've used SueLand Moving 3 times to relocate. Every time I have been extremely happy with the service and moving crew. In my experience, the quote provided is the amount paid at the end of the job and I've never had anything damaged. During my last move, the crew carefully wrapped all of my furniture, mirrors and glass table top with bubble and shrink wrap in addition to moving blankets. Leyland and Shonagh are great -- very personable, organized and responsive. My moves using SueLand Moving have been stress free - definitely A+.
Angela
Etobicoke
Wonderful experience with Sueland movers! We recently moved to the Toronto area and used their services twice. Once, while emptying our U-haul truck into the storage unit and then from the storage unit to our apartment. And Ley's team were punctual, professional, and sociable. Ley was very friendly and humble and offered us very competitive and affordable rates. We will be definitely using their services again when we decide to move in the future. We had an amazing experience and highly recommend them to anyone considering moving in the GTA area.
Yash M.
North York, Toronto
We could not be any happier with the Suelan moving company that provided us with an excellent crew for help with us moving. They were very courteous and their teamwork was really commendable. We even liked the online process for a quote which was short and simple. It was a hot day but they were not affected and kept on working in a steady pace till the work was done. I will highly recommend Sueland Moving to all my friends and relatives in Toronto.
Alonso Dalton
SueLand movers were by far the best moving company that I have ever worked with! Their team was professional, efficient and respectful throughout every step of the move. They took the time to carefully wrap and secure all breakable belongings and were very patient and understanding with my elderly mother who was moving into a new home. The Sueland team have really gotten it right when it comes to delivering exceptional service at a reasonable price. I would use their services again in the future and I will be recommending Sueland to any friends and family who have upcoming moves.
Kristen
Toronto
This is a solid moving company. With all of the negative things you hear about moving companies, I was careful about choosing the right company. Leyland and his team we're on time, Professional, extremely careful and it was a great experience overall. I would highly recommend this company.
Hammer "hammer_k" K.
Mississauga
Because of my poor experiences in the past, I wasn't confident I was trusting a moving company but this company changed the old idea that I had of moving. My advisor has done an excellent job describing the entire procedure and the deal to me. He has also given me a very strong statement. So, I wanted to go with them and I'm sure that I made the right choice. The team were excellent in every possible way. From being prompt, effective, friendly, competent, qualified and just wonderfully helpful in all ways to relieve anxiety and stress. The movers turned up for pickup and delivery on time.
Traker Smith
I met with Lee the owner at my home. He did a walk threw of the house and gave me a ball park figure for the move from Toronto to Huntsville ( Muskoka ). We sealed the deal with a hand shake no money down. Lee is a man of his word .His crew showed up on time and went over and above to help us. We were still not ready with the final packing. They helped us finish packing and still get out in reasonable time. The move went flawless. 5 star service all the way. Thanks Sueland Moving you're the Best.
Mark Sunderland
Toronto
I started using Sueland Moving & Storage Company in 2004. Their work is superior and their care and empathy is not something you can just find anywhere in this kind of trade. His team shows up on time, in uniforms and are true professionals. Sueland's rates are totally reasonable and when Leyland gives you a quote he stands by it. They also help set up for events with a smile and are great are putting together furniture and repairing things. Honestly, I couldn't have been as successful as I have been without them.
Sarah Alty
Toronto
Sueland Moving & Storage completed a residential move within the City for us. They did an outstanding job, from providing the initial quote, to packing contents and labelling boxes, to the actual move itself. The service was friendly and professional. They know what they are doing and completed the move with a smile and a helpfulness and can-do attitude that made the entire experience easy. This is the second time we have used this company and it will not be the last.
Katherine L.
Sueland Moving pricing has a move plan for every budget and need, whether it's a basic moving service or a full-service elite package.
We Have All-Inclusive Rates
We have a 20-year record of honouring all-inclusive and guaranteed prices. There are never hidden costs or surprises.
We offer loyalty, student, and senior discounts on moving services, storage, and furniture services.
The quote we provide our customers include WSIB coverage and private insurance. Proof of insurance is available upon request.
Each member of the crew is trained though a personalized program developed by the senior management team. The focus is on overall safety and the protection of your home and possessions.
Trying to move a piano? A porcelain collection? Our Elite Services has 20 years of experience transporting priceless objects.
We are conveniently located in Toronto and service the entire GTA and nearby cities, including, Ottawa, London, and Montreal.
We Disassemble & Reassemble
We disassemble and reassemble furniture when required to ensure a smooth transition. The items that need disassembling will be analyzed during the walkthrough and included in the personal quote we provide you.
We offer full-service storage in 24/7 secure, clean, and climate controlled state-of-the-art facilities owned by us.
We plan ahead and cover all the details, like protecting floors and bringing extra boxes for unwanted goods.
We put honesty and quality into every move, every time. This philosophy has helped us garner excellent online reviews as a moving company, not just in Toronto, but in GTA and Southern Ontario.
Whether commercial or residential, Sueland Moving makes it easy and here's how:
Movers are Professionally Trained
and uniformed!
Excellent Customer Service
making each move the perfect move!
Double Wrapping of Furniture
for all moves and storage!
On time for Pick-ups & Deliveries
for all locations in the GTA!
4 steps
to a stress-free move!
Contact Sueland Moving & Storage Inc. through email, quote form, or by calling our Toronto or Etobicoke office.
Your Sueland Moving Relocation Consultant plans every detail of your residential or commercial move.
Sit back and relax while Sueland Moving moves your belongings to your new residence or commercial location.
Sueland Moving helps set up your next home, office or commercial space so you can start enjoying your new location right away!
Our Sueland Moving Relocation Consultant will walk you through the entire process.

We take a close look at the exact inventory of your move.

We analyze the precise factors of the locations we need to navigate.

We determine how to best protect your home and possessions during the moving process.

You will receive a detailed customized move plan tailored to your needs.
Travel, tolls, parking tickets, fees and fuel are part of our all-inclusive move.

We ensure on-time local moves including pick-up and loading.

Our drivers are fully licensed and insured.

Our trucks are fully equipped with tools, bins, boxes, carts, bubble/shrink wrap, blankets, floor runners, packing paper, labels and more. As per our COVID protocol, they are cleaned and disinfected after every move.

We promise safe delivery of your possessions to your new home, condo, office, or commercial location.
In accordance with our COVID protocols, we pre-screen our employees every day.

Our trucks and equipment are sanitized and disinfected before and after each move. 

We take time to carefully protect your floors and corners using top grade materials.

Large furniture items (sofas, beds, etc.) that require transporting will be disassembled and reassembled at the new location.
It is our policy to double wrap and protect all furniture, regardless of the distance.

We have materials to protect your building and floors.

Your TV, stereo, electronics and computers are carefully protected and packaged.

We package and protect lamps, mirrors, pictures and rugs.

We bring wardrobe box packaging and extra boxes just in case.

We disposes of all materials used during the move.
We have over 30 years of experience in the moving industry and have earned a reputation built on quality and trust.
We are perfectionists in everything we do from packing and protecting valuables to reassembling a desk.
We deliver high quality results and use top grade supplies to make sure your belongings are protected during the move.
Our senior management team trains each crew member individually to ensure we deliver a high standard of work every time.
Our pricing is up front and there are no hidden fees.

We guarantee our prices.

Our crew members make overall safety a top priority.

We provide complimentary services including the walkthrough, setup, tips and tricks, and downsizing consultation.

We offer loyalty club perks and discounts for seniors and students
Questions? Learn More About Sueland Moving on our FAQ page!
That is a loaded question, but let's be honest -making a decision about how you're going to handle your next move is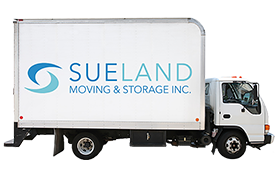 Use the form below to contact us. We will get back to you within 24 hours during normal business hours.