Furniture Moving in the GTA
Furniture Moving Services In Toronto
Attentive&nbsp Personalized&nbsp Secure
Are you looking to move a piano, an armoire or a safe? Sueland Moving specializes in large furniture moves as well as in transporting delicate items. We've mastered the art of moving large or fragile objects by planning ahead and ensuring every precaution is taken to protect the item. We understand that furniture and other valuables can often hold great sentimental value. Therefore, we consider each piece as unique and handle it with care. Our trained representatives will take into account where the furniture or objects were originally located and where they need to be moved to. Stairs, corners and the weight of the item are factored into the number of movers and the time required to complete the job.
Leave the Logistics to Sueland Moving!
There is no furniture too big or too small for our team! We at Sueland Moving understand that furniture can hold great sentimental value, so we handle each piece with tender care regardless of the size. As one of the leading experts in Toronto, we endeavour to provide stress-free moving at a guaranteed price. Let us help you move your cherished memories. Contact us today or get your free estimate!
Whether commercial or residential, Sueland Moving makes it easy and here's how:
Movers are Professionally Trained
and uniformed!
Excellent Customer Service
making each move the perfect move!
Double Wrapping of Furniture
for all moves and storage!
On time for Pick-ups & Deliveries
for all locations in the GTA!
4 steps
to a stress-free move!
Contact Sueland Moving & Storage Inc. through email, quote form, or by calling our Toronto or Etobicoke office.
Your Sueland Moving Relocation Consultant plans every detail of your residential or commercial move.
Sit back and relax while Sueland Moving moves your belongings to your new residence or commercial location.
Sueland Moving helps set up your next home, office or commercial space so you can start enjoying your new location right away!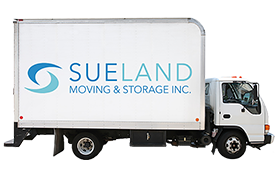 Use the form below to contact us. We will get back to you within 24 hours during normal business hours.