Packing/Unpacking Services
Packing/Unpacking Services In Toronto
Considerate Hassel-free Strategic
One of the more daunting tasks of moving is packing up all your belongings to ensure a safe delivery. Although it may seem simple to pack things in a box, it has to be done in a calculated manner in order to protect the items and make the move more efficient. The size of the boxes and the type of packing materials play a role in achieving a smooth transition. During the walkthrough, one of our trained professionals will provide moving tips to help you prepare.  At Sueland Moving, we understand that work and family obligations can make it difficult to set aside time to pack. As one of the leading experts in the Toronto moving industry, our representatives will take the hassle out of the packing process. We offer the option to pack your entire home or specific rooms as indicated. By letting us do the packing, you can remove one task from your list and sit back and enjoy the move!
The mountains of boxes waiting to be unpacked can be discouraging and just thinking of where to start can be completely overwhelming. Our team of trained professionals however, can take the stress away and deliver an exceptional unpacking service. Aside from mishandling, the highest cause of damage to items is due to improper packing and unpacking. Taking care to unpack every item and box, in a timely manner, is our expertise. No move is too big for us to handle. With over 30 years of experience in the Toronto moving industry, our team has mastered the art of unpacking.
The Logistics of Unpacking
Sueland Moving takes the stress out of the overwhelming job of packing and unpacking during a move. Every box and every item is handled with care and in a timely manner. This is our expertise!
Whether commercial or residential, Sueland Moving makes it easy and here's how:
Movers are Professionally Trained
and uniformed!
Excellent Customer Service
making each move the perfect move!
Double Wrapping of Furniture
for all moves and storage!
On time for Pick-ups & Deliveries
for all locations in the GTA!
4 steps
to a stress-free move!
Contact Sueland Moving & Storage Inc. through email, quote form, or by calling our Toronto or Etobicoke office.
Your Sueland Moving Relocation Consultant plans every detail of your residential or commercial move.
Sit back and relax while Sueland Moving moves your belongings to your new residence or commercial location.
Sueland Moving helps set up your next home, office or commercial space so you can start enjoying your new location right away!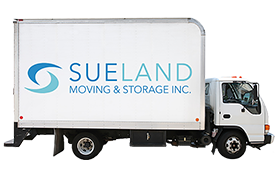 Use the form below to contact us. We will get back to you within 24 hours during normal business hours.