About Toronto's Moving Experts
Honesty &nbsp Quality &nbsp Integrity
Sueland Moving & Storage Inc. is a Canadian owned company based in Toronto, Ontario. After years of working in the moving industry, President Leyland Permaul developed a vision for his own company and began the pursuit from his very own home. Years of dedication and diligence eventually paid off and Sueland Moving & Storage Inc. was up on its feet ready to reform the moving experience. Over time, as the company's network expanded, Sueland Inc. incorporated in 2013 and became an established moving and storage solution throughout the GTA.With over 30 years of experience, Sueland Moving has built lasting relationships with small business owners, corporate offices, friends and families. They specialize in residential and commercial moving services including storage services, packing/unpacking, and more recently, furniture assembly and installation.
As Toronto's leaders in the business, Sueland Inc. recognizes and supports the unique needs of each customer. Every move is customized. This could mean relocating an entire home or office to performing small-scale delivery. Their service is built on honesty and quality and reflected in outstanding online reviews.
Sueland Moving & Storage Inc. prides itself on its integrity, outstanding customer service, attention to detail, and providing a world-class experience for each and every client. Contact Toronto's Elite Movers and let their family move yours.
Sueland Furniture Assembly
Sueland Furniture Assembly, an expanding branch of Sueland Moving & Storage Inc., holds high standards for excellence in furniture assembly and installations.
The process of moving can be a stressful endeavour for anyone. A new home left with furniture to assemble and projects to install, can be unbearable while maintaining regular daily routine.Recognizing a growing need, Sueland Moving & Storage Inc. expanded to include furniture assembly and installation. In 2019, Sueland Furniture Assembly was established to provide residential and commercial furniture assembly, TV mounting, wall and lighting installations, and outdoor equipment assembly.
Over the course of a few years, Sueland Inc. has meticulously trained a team of skilled professionals who provide these services to customers throughout the GTA. Their mission is to create a completely stress-free moving experience from moving the first piece of furniture to hanging the last piece of art.
Meet the Sueland Inc. Team
After years of knowledge, Leyland Permaul has gathered a team who meets customer needs and provides a friendly, stress-free experience.
Leyland Permaul
President / Founder
As President and Founder of Sueland Moving and Storage Inc. I have worked my way through the moving business for many years and upon hearing horror stories from customers of unscrupulous movers who changed the price at the new address, to having a mover break one of your valuables, I knew I could improve the moving industry by being a pioneer in offering guaranteed, all-inclusive pricing with honest movers, who will not hold your furniture ransom. And so my journey began...
I met my wife Suzana while we were both in High School and after graduating, we were married and started a family.  While I had ambitions to one day open-up my own company, I knew I had to learn everything about the business from the bottom up and spent the next 20 years doing just that.  I have always envisioned creating a company that eliminates the stress and inconvenience a move can create by providing top notch services for a more hassle-free experience. We wanted to choose a name that was meaningful to my wife and I, and so Sueland was created, being derived from both Suzana's name and my own.  I personally oversee the training of all my staff so they understand my vision and go that extra mile screening our movers carefully to ensure that they are reliable, dependable and honest. My vision is not complete, I hope to open locations throughout the GTA that are guided by my principals and continue to explore innovative ways to make my business a one-stop shop for our customers that encompasses all facets of a move.
My motto to my team "Move our customers' possessions like you would my Mother"
Suzana Permaul
Vice President / Co-Founder
I have spent many years partnering with my husband Ley and our sons, to create a business that will live on through our children.  I met Leyland in High School and we had a dream. I knew that Ley had the skills to make it happen and I would be right there beside him cheering him on, and doing all I could do to make this dream come true.  From answering phones, doing the books, paying the bills. We are happy and proud of what we have achieved through hard work, imagination and a positive attitude.  
Dwayne Permaul
Supervisor
As the oldest son of Leyland and Suzana, Dwayne started working with his father in High School when the company was in its early years. Over the years, he has worked by his father's side refining his skills and learning about the business. When the day comes to take the lead, Dwayne will do so with pride and continue to fulfil his father's vision.
Lukas Permaul
Supervisor
As the younger son, Lukas started working part-time with his father and brother while attending middle school. After graduation, he continued to work for the company in a full-time capacity. He grew into a leadership role by using his years of experience in providing positive customer outcomes.
Ragina Sivarajah
Office Manager
Ragina has joined the Sueland family recently but has proven that she is more than capable of handling all things move related. Whether it's finding solutions for the unexpected, to ensuring customers are happy with the services, Ragina continually strives for the best, keeps things moving, and does it always with a friendly smile!
Sheila Zabel
Marketing Consultant
Sheila is the company's jack-of-all-trades person. While only here on a part-time basis, she is always happy to help customers. Whatever it is, she'll figure out a way to make their moving experience as easy and stress free as possible. Whether that's helping a customer pick from an elite package, or just a part of it, Sheila will do whatever she can to make it work.
The Toronto Office Team
Sueland's office team puts their heads together for all things move related. Whether it's agreeing or not, in the end they do the best they can for their customers. They've learned very quickly, while responding to customer's queries, that they are part of "family Sueland". Whether it's office or residential, condo or apartment, they are here to guide you through the process every step of the way.
The Moving Team
Sueland's professional movers have been part of the team for many years. Outstanding online reviews prove how the moving team contributes to the 5-star ratings. From moving to storage and disassembly to assembly, the Sueland moving team delivers exceptional service while assuring customers that their possessions are handled with care.
Questions? Learn More About Sueland Moving on our FAQ page!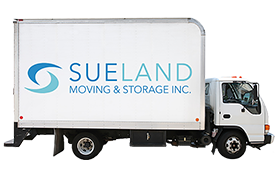 Use the form below to contact us. We will get back to you within 24 hours during normal business hours.