Disposal Services In Toronto
Conscientious Eco-friendly Beneficial
Have you wondered what to do with unwanted furniture during a move? Have you considered donating furniture that is no longer needed? Sueland Moving offers an eco-friendly disposal service, which includes disassembling the furniture and taking it for disposal or donation. During the free, no obligation walkthrough, our trained representative will consult with the customer to identify the items. Donation is a great way to get rid of unwanted furniture while contributing to the community and helping those in need. We also recommend selling unwanted furniture on platforms such as Kijiji – a great way to make some extra cash.
Logistics of our Disposal Service
During a relocation or construction period, office furniture may need be to be removed and disposed of. It may seem like a daunting task to decide what to do with furniture items and other equipment, especially if more than one floor is involved. As one of the leaders in the Toronto moving industry, and with 30 years of experience under our belt, we are confident that we can remove and dispose of all unwanted office furniture in a timely and effective manner. During the site visit, our representative will assess the logistics involved and you will be provided with a customize quote. Contact Sueland Moving today for help with the removal or disposal of your office furniture.
Logistics of Removing Office Furniture
Protecting The Environment
Sueland Moving offers an ecologically-friendly disposal service for furniture and unwanted items. If arranged in advance, they will deliver to your favourite charity.
Photo by Karolina Grabowska from Pexels
Whether commercial or residential, Sueland Moving makes it easy and here's how:
Movers are Professionally Trained
and uniformed!
Excellent Customer Service
making each move the perfect move!
Double Wrapping of Furniture
for all moves and storage!
On time for Pick-ups & Deliveries
for all locations in the GTA!
4 steps
to a stress-free move!
Contact Sueland Moving & Storage Inc. through email, quote form, or by calling our Toronto or Etobicoke office.
Your Sueland Moving Relocation Consultant plans every detail of your residential or commercial move.
Sit back and relax while Sueland Moving moves your belongings to your new residence or commercial location.
Sueland Moving helps set up your next home, office or commercial space so you can start enjoying your new location right away!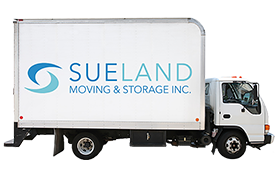 Use the form below to contact us. We will get back to you within 24 hours during normal business hours.