Condo & Apartment Moving in Toronto
Condo & Apartment Moving Services In Toronto
Prepared&nbsp Thorough&nbsp Stress-free
Moving from a condo to a house or from a house to an apartment can be extremely stressful if not planned properly. Sueland Moving's trained professionals ensure a smooth transition by planning every detail and providing customers with a personalized quote. With over 30 years of experience in the Toronto moving industry, you can count on us to take care of the important things. For example, we always assess the size of the elevator, which is critical in terms of timing. During our free, no obligation walkthrough, we determine the amount of equipment required to move the items safely. In consideration of our fellow tradesman, we advise working around garbage/recycling day. Whether it's a large or small condo move, we have you covered. Contact us and we'll take the stress out of moving!
Leave the Logistics to Sueland Moving!
Sueland Moving conveniently delivers moving boxes directly to your door. We offer high quality boxes in a variety of sizes to fit every conceivable household item. Our boxes are brand new, dry and sturdy, and protect your belongings for a smooth, stress-free move.
Whether commercial or residential, Sueland Moving makes it easy and here's how:
Movers are Professionally Trained
and uniformed!
Excellent Customer Service
making each move the perfect move!
Double Wrapping of Furniture
for all moves and storage!
On time for Pick-ups & Deliveries
for all locations in the GTA!
4 steps
to a stress-free move!
Contact Sueland Moving & Storage Inc. through email, quote form, or by calling our Toronto or Etobicoke office.
Your Sueland Moving Relocation Consultant plans every detail of your residential or commercial move.
Sit back and relax while Sueland Moving moves your belongings to your new residence or commercial location.
Sueland Moving helps set up your next home, office or commercial space so you can start enjoying your new location right away!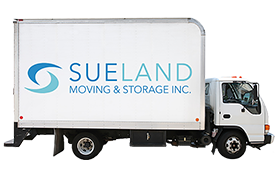 Use the form below to contact us. We will get back to you within 24 hours during normal business hours.