Small Moving Services In Toronto
Skilled Detail-orientated Specialized
Do you need to move a desk? Do you want to clean out your attic? We can help with our specialized team of professionally trained movers. You can be assured that they will handle your belongings with care. Navigating stairs and tight corners, or the weight of the furniture, plays a role in how your items are moved. Our team will come to you location and inspect the logistics of your move. If required, they will disassemble furniture for transport then reassemble when the item is placed to your liking. Whether it's a small move or a large house move, we have you covered.
Contact us and let us take care of the rest.
Do you need to relocate a desk, chair or computer? Do you want to rearrange the office? We can help with our specialized team of professionally trained movers. You can be rest assured that they will handle your belongings with care. If you need to reconfigure your office, mount a TV, or just have a picture hung, our movers are qualified to set up your office as you request. Our pricing is flat rate and based on the number of men and time required. For Sueland Moving, no job is too big or too small.
Contact us and we'll be sure to help!
Leave the Logistics to Sueland Moving!
"Always in good hands..."
Ren
I have used Leyland and his movers twice now, and can't recommend them enough. I did not have to worry about anything, and felt I was always in good hands. The movers are very friendly and respectful, taking great care in what they do.
More Reviews
Brian Casey
Our company, Bay Street Chambers has used Sueland twice in the last 4 years. Excellent service both times. I have no hesitation in recommending them.
More Reviews
"The process was seamless..."
Holly
I recently used SueLand Moving and Storage and the whole process from booking to moving day was seamless. Leyland and his staff were professional, on-time, and incredibly efficient. I had no idea moving could be this stress-free! I highly recommend SueLand Moving for your next move.
More Reviews
From moving a single item to a truckload of furniture. From rearranging your space to assembly and installation, Sueland Moving & Storage does it all and does it best! Get your free estimate now!
Whether commercial or residential, Sueland Moving makes it easy and here's how:
Movers are Professionally Trained
and uniformed!
Excellent Customer Service
making each move the perfect move!
Double Wrapping of Furniture
for all moves and storage!
On time for Pick-ups & Deliveries
for all locations in the GTA!
4 steps
to a stress-free move!
Contact Sueland Moving & Storage Inc. through email, quote form, or by calling our Toronto or Etobicoke office.
Your Sueland Moving Relocation Consultant plans every detail of your residential or commercial move.
Sit back and relax while Sueland Moving moves your belongings to your new residence or commercial location.
Sueland Moving helps set up your next home, office or commercial space so you can start enjoying your new location right away!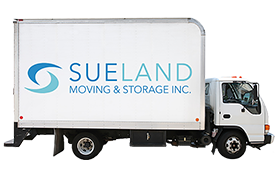 Use the form below to contact us. We will get back to you within 24 hours during normal business hours.