Moving our Seniors in the GTA
Senior Moving Services In Toronto
Friendly Supportive Caring
We at Sueland Moving recognize that our older customers may have different needs. Whether it's moving to a retirement residence, or to a smaller home, we are there from the start to help guide you through the process while you're preparing to enter into the next phase of your life. It just starts with a phone call or if more convenient, you can complete the free quote form below to get started. One of our agents will arrange for a walk-through followed by a free personalized quote. During this time, our estimator will provide you with information on downsizing, packing strategies and getting yourself move-ready. If you prefer, we can do this for you – packing, unpacking, wrapping up your valuables, and cleaning your home after you leave. Whether it's a large move or a small move, we have you covered – contact us and let us take care of the rest.
Leave the Logistics to Sueland Moving!
"Courteous and respectful..."
Frank Yusuf
Great professional service with very reasonable pricing, esp. for seniors. They take great care & are very courteous & respectful.
More Reviews
Kristen
Their team was professional, efficient and respectful. They took the time to carefully wrap and secure all breakable belongings and were very patient and understanding with my elderly mother who was moving into a new home. The Sueland team have really gotten it right when it comes to delivering exceptional service at a reasonable price.
More Reviews
"They were all amazing..."
Jennifer Hobbs
Quite honestly these men saved me!! Dwayne went far and wide to help me move my elderly father into his home regardless of $$. I couldn't have done it without their kindness and professionalism in regards to my deaf, disabled, very overwhelmed father. They were patient and polite and went out of their way to help.
More Reviews
Sueland Moving takes care of Toronto's seniors by offering discounts on moving services, storage and furniture services.
Whether commercial or residential, Sueland Moving makes it easy and here's how:
Movers are Professionally Trained
and uniformed!
Excellent Customer Service
making each move the perfect move!
Double Wrapping of Furniture
for all moves and storage!
On time for Pick-ups & Deliveries
for all locations in the GTA!
4 steps
to a stress-free move!
Contact Sueland Moving & Storage Inc. through email, quote form, or by calling our Toronto or Etobicoke office.
Your Sueland Moving Relocation Consultant plans every detail of your residential or commercial move.
Sit back and relax while Sueland Moving moves your belongings to your new residence or commercial location.
Sueland Moving helps set up your next home, office or commercial space so you can start enjoying your new location right away!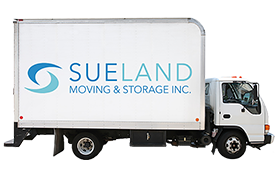 Use the form below to contact us. We will get back to you within 24 hours during normal business hours.