Moving Supplies In Toronto
Accommodating Practical Precise
Calculating the amount of supplies required for a move can be confusing. Should I use 2.0 cube boxes or larger? How many boxes should I purchase? During the walkthrough our trained professional will provide a detailed account of the supplies required for the move. We can deliver moving supplies upon request which includes, but is not limited to, packing paper, boxes, shrink wrap and bubble wrap. In order to load the truck efficiently for the move, we recommend using 1.5 and 2.0 cube boxes. There is a mathematical calculation associated with using these specific boxes, which saves us time during loading and offloading.
The use of proper packing materials can impact the safety and security of items being transported. All fragile items need to be wrapped and protected before they go in boxes. On the day of the move, we will use any necessary materials to wrap and protect large pieces of furniture. As one of the leader's in Toronto moving industry, we can help you plan each step including the amount of supplies required. We can take the stress away and help you save time and money.
The Logistics of Moving Supplies!
Sueland Moving's trained professionals will advise you on all supplies and materials required for your move. Our goal is to provide a stress-free moving experience, at a guaranteed price.
Whether commercial or residential, Sueland Moving makes it easy and here's how:
Movers are Professionally Trained
and uniformed!
Excellent Customer Service
making each move the perfect move!
Double Wrapping of Furniture
for all moves and storage!
On time for Pick-ups & Deliveries
for all locations in the GTA!
4 steps
to a stress-free move!
Contact Sueland Moving & Storage Inc. through email, quote form, or by calling our Toronto or Etobicoke office.
Your Sueland Moving Relocation Consultant plans every detail of your residential or commercial move.
Sit back and relax while Sueland Moving moves your belongings to your new residence or commercial location.
Sueland Moving helps set up your next home, office or commercial space so you can start enjoying your new location right away!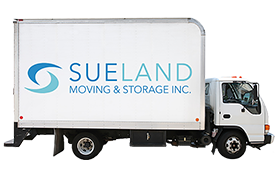 Use the form below to contact us. We will get back to you within 24 hours during normal business hours.