Complimentary Services In Toronto
Comprehensive Unique Effortless
Sueland Moving endeavours to provide a comprehensive service from the beginning to end. Our goal is to make your home or office move as effortless as possible. Every move is unique and needs to be planned carefully. Factors such as stairs and types of items are taken into consideration. In order to provide stress-free moving, we offer our complimentary services. Whether the move is big or a small, we have a comprehensive package that aligns with your budget. As one of the leading experts in the Toronto moving industry, our services are geared to take the stress out from moving.
Complimentary Services for customers
Sueland Moving goes above and beyond to make sure each move is carefully planned and in line with the customer's budget. Complimentary services are just part of the package designed to create a stress free moving experience.
Whether commercial or residential, Sueland Moving makes it easy and here's how:
Movers are Professionally Trained
and uniformed!
Excellent Customer Service
making each move the perfect move!
Double Wrapping of Furniture
for all moves and storage!
On time for Pick-ups & Deliveries
for all locations in the GTA!
4 steps
to a stress-free move!
Contact Sueland Moving & Storage Inc. through email, quote form, or by calling our Toronto or Etobicoke office.
Your Sueland Moving Relocation Consultant plans every detail of your residential or commercial move.
Sit back and relax while Sueland Moving moves your belongings to your new residence or commercial location.
Sueland Moving helps set up your next home, office or commercial space so you can start enjoying your new location right away!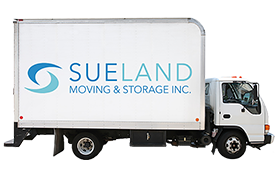 Use the form below to contact us. We will get back to you within 24 hours during normal business hours.