Sueland Moving Storage Services
Storage Services In Toronto
Who needs storage and why? At Sueland, we know that at some point you may need to store personal items for a new space. If you are in the midst of renovations you may need to temporarily store your furniture. Whatever the reason is, we have a solution for you. Our state-of-the-art storage facility is conveniently located at our Etobicoke headquarters. It contains a top-notch security system and is climate-controlled all year round. In addition, pest protection and maintenance is conducted on a regular basis. We offer long-term storage for commercial customers, and short-term for residential use. You will feel good knowing that your furniture is in good hands!
We manage the storage needs of our commercial clients on a long-term basis. Appointments are required to view items in storage. All items coming into our facility are itemized with accompanying photos, then protected and stored.
Our storage services are for customers who are undergoing renovations, or they are waiting to take occupancy of a new home and need temporary storage. If you need a long period of time, or require access on a regular basis, we are happy to help you find a competitive storage facility close to your home.
Leave the Logistics to Sueland Moving!
"Exceptionally careful and diligent..."
Trudy
Sueland Moving is amazing, courteous and so helpful. Leland and Danielle are so precise and willing to assist with anything required. I would not use any other moving service but Sueland. Their team of movers were exceptionally careful and diligent with all the things that had to be moved, especially as it pertains to the fragile items. I felt completely confident in their hands. Most of my things went to a storage unit, and they packed the unit so beautifully and carefully. They were absolutely wonderful to work with.
More Reviews
"A real pleasure to work with. ..."
D Butler
Just want to Thank Leyland and the team for all the assistance in my two recent residential moves. It was awesome to know that my belongings were safely packed in storage. The team was quick, professional and a real pleasure to work with. Second part of my move from storage went just as quickly as the first with absolutely no damage to any items. Price was affordable including the storage, Leyland and crew were very personable and with any hesitation I highly recommend Sueland Moving & Storage!!
More Reviews
With Sueland Moving, storage is full-service, providing you the ideal combination of 24/7 security, cleanliness, and climate control in our state-of-the-art storage facilities.
Whether commercial or residential, Sueland Moving makes it easy and here's how:
Movers are Professionally Trained
and uniformed!
Excellent Customer Service
making each move the perfect move!
Double Wrapping of Furniture
for all moves and storage!
On time for Pick-ups & Deliveries
for all locations in the GTA!
4 steps
to a stress-free move!
Contact Sueland Moving & Storage Inc. through email, quote form, or by calling our Toronto or Etobicoke office.
Your Sueland Moving Relocation Consultant plans every detail of your residential or commercial move.
Sit back and relax while Sueland Moving moves your belongings to your new residence or commercial location.
Sueland Moving helps set up your next home, office or commercial space so you can start enjoying your new location right away!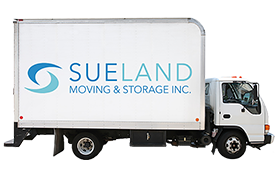 Use the form below to contact us. We will get back to you within 24 hours during normal business hours.