Etobicoke Office & Commercial Moving
Office & Commercial Moving Services In Etobicoke
Customized&nbsp Guaranteed&nbsp Professional
Etobicoke office and commercial moves with Sueland Moving start with taking a close look at the precise inventory of your move, the exact details of the locations we need to navigate, and how to properly protect your property and facility throughout the process. This research helps your moving relocation consultant develop a customized Move Plan specific to your needs. Sueland Moving provides you with on-time local moves along with 30 years of experience serving the Greater Etobicoke Area and each city we serve in Southern Ontario.
Sueland Moving works with you to handle any special requests with the utmost courtesy, integrity, professionalism, and efficiency, like providing custom-built crates, office setup services, cleaning services, and office equipment and computer system installation.
Leave the Logistics to Sueland Moving!
Sueland Moving & Storage prides itself on its integrity, outstanding customer service, attention to detail, and a world-class experience for each and every client.
Whether commercial or residential, Sueland Moving makes it easy and here's how:
Movers are Professionally Trained
and uniformed!
Excellent Customer Service
making each move the perfect move!
Double Wrapping of Furniture
for all moves and storage!
On time for Pick-ups & Deliveries
for all locations in the GTA!
4 steps
to a stress-free move!
Contact Sueland Moving & Storage Inc. through email, quote form, or by calling our Toronto or Etobicoke office.
Your Sueland Moving Relocation Consultant plans every detail of your residential or commercial move.
Sit back and relax while Sueland Moving moves your belongings to your new residence or commercial location.
Sueland Moving helps set up your next home, office or commercial space so you can start enjoying your new location right away!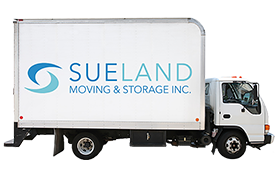 Use the form below to contact us. We will get back to you within 24 hours during normal business hours.