Mississauga Office & Commercial Moving
Office & Commercial Moving Services In Mississauga
Customized&nbsp Guaranteed&nbsp Professional
Commercial or business relocation in Mississauga begins by calling Sueland Moving & Storage Inc. At Sueland Moving, we first outline what the proposed move or service project would entail. This could include anything from hanging wall art and installing sanitizer stations to relocating an entire office, including IT equipment. We will provide a well constructed plan so there is no downtime for your staff. Our professional estimator, with 30+ years experience, will come to your location, assess the logistics of the service requested and put together a detailed and customized estimate. Our Mississauga movers are well-acquainted with your city and always on time. They are professional and friendly and go above and beyond to ensure that the services rendered follow a carefully laid out plan. You can rest assured that your possessions will be in good hands. 
Sueland's Mississauga movers will also ensure that any special requests are managed with courtesy, integrity, and a high level of professionalism. We are well-versed in office relocation projects, setting up meeting areas or anything else you may require. Did we mention that we can also handle your assembly projects? With our trained professional assemblers, we can put together workstations, walls, COVID screens, or televisions with state-of-the-art sound systems. Projects big or small – we can handle it all. Call or email our Mississauga movers today.
Leave the Logistics to Sueland Moving!
Sueland Moving & Storage prides itself on its integrity, outstanding customer service, attention to detail, and a world-class experience for each and every client.
Whether commercial or residential, Sueland Moving makes it easy and here's how:
Movers are Professionally Trained
and uniformed!
Excellent Customer Service
making each move the perfect move!
Double Wrapping of Furniture
for all moves and storage!
On time for Pick-ups & Deliveries
for all locations in the GTA!
4 steps
to a stress-free move!
Contact Sueland Moving & Storage Inc. through email, quote form, or by calling our Toronto or Etobicoke office.
Your Sueland Moving Relocation Consultant plans every detail of your residential or commercial move.
Sit back and relax while Sueland Moving moves your belongings to your new residence or commercial location.
Sueland Moving helps set up your next home, office or commercial space so you can start enjoying your new location right away!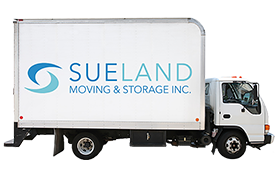 Use the form below to contact us. We will get back to you within 24 hours during normal business hours.