Friendly Collaborative On-time
It is said that moving and weddings are two of life's most stressful events. While we can't help you with your wedding, Sueland Moving and Storage Inc. can certainly help you with all of your moving needs. Our specialized Real Estate Moving Team are professionally trained with over 30+ years of experience. Finding a Real Estate agent is your first step, whether you've found a new home or still looking for one. In any case, you will have to think about selling your current home, and this can be a daunting task! With a collaborative partnership between your agent and Sueland's Real Estate Moving Team, your house will be sell-ready, or move-ready.
Staging your home is an opportunity to present the best of what your home offers to potential buyers, and this is where Sueland's Real Estate Moving Team steps in. We can remove identified items and store them at our state-of-the-art, temperature-controlled storage facility.
If items are no longer wanted, we can dispose of, or donate them for you. Once your home is sold, we are ready, willing, and able to assist you with moving supplies, packing services and the actual move itself. With our professional Real Estate Moving Team it has never been easier. Give us a call and we will be happy to meet with you and prepare a detailed estimate that is specific to your needs. We are always on time, friendly, honest, and reliable. There is no job too big or too small. We will take care of you, so you can focus on your priorities. 
Contact us and we'll take the stress out of your move!
Leave the Logistics to Sueland Moving!
Sueland Moving begins by taking a close look at the exact inventory of your move, the precise factors of the locations we need to navigate, and how to best protect your home and your possessions during the moving process.
Whether commercial or residential, Sueland Moving makes it easy and here's how:
Movers are Professionally Trained
and uniformed!
Excellent Customer Service
making each move the perfect move!
Double Wrapping of Furniture
for all moves and storage!
On time for Pick-ups & Deliveries
for all locations in the GTA!
4 steps
to a stress-free move!
Contact Sueland Moving & Storage Inc. through email, quote form, or by calling our Toronto or Etobicoke office.
Your Sueland Moving Relocation Consultant plans every detail of your residential or commercial move.
Sit back and relax while Sueland Moving moves your belongings to your new residence or commercial location.
Sueland Moving helps set up your next home, office or commercial space so you can start enjoying your new location right away!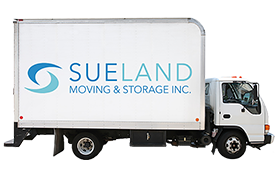 Use the form below to contact us. We will get back to you within 24 hours during normal business hours.