Toronto Office & Commercial Moving
Office & Commercial Moving Services In Toronto
Comprehensive&nbsp On-Time&nbsp Efficient
Sueland Moving has a proven track record as one of the best Toronto commercial movers. We have established strong relationships with many corporate offices in downtown Toronto and we are known to be their most professional, cost-effective and reliable resource. Corporate leaders such as Onex, Scotiabank, Visa, Barrick Gold and many more, put their trust in us to finish the job flawlessly every time and you should too!
Our goal is to provide a comprehensive service. From the planning stages to set-up, and everything in between, the logistics of the move will be managed by our well-trained representatives. Whether it is a small office move or a large commercial move, we have you covered – contact us and let us take care of the rest!
Leave the Logistics to Sueland Moving!
5n2 Kitchens
We had service from the SueLand team yet again for our second location and what a great experience! I absolutely recommend Leyland and his team for any moving/setup/relocation/office setup and related services. You will not be disappointed, give them a call.
More Reviews
"Great choice for a hassle free move..."
Mick10k in Toronto
We booked SueLand for a corporate move. They were on time and ready to get to work. The crew was polite and professional - packed up more than 30 computers and monitors safely and securely. Nothing was damaged. The job was efficient and priced very well. I would do business with them in the future and recommend them to anyone.
More Reviews
"Highly recommended in Toronto..."
Barbera Wimberly
I have used Sueland Moving twice in past few years. Once it was for heavy file rearranging and furniture shifting for our business and the second one was when we moved our office to the suite next door. It was a big move. They have all the necessary equipment to make a small or big move successful.
More Reviews
Sueland Moving & Storage prides itself on its integrity, outstanding customer service, attention to detail, and a world-class experience for each and every client.
Whether commercial or residential, Sueland Moving makes it easy and here's how:
Movers are Professionally Trained
and uniformed!
Excellent Customer Service
making each move the perfect move!
Double Wrapping of Furniture
for all moves and storage!
On time for Pick-ups & Deliveries
for all locations in the GTA!
4 steps
to a stress-free move!
Contact Sueland Moving & Storage Inc. through email, quote form, or by calling our Toronto or Etobicoke office.
Your Sueland Moving Relocation Consultant plans every detail of your residential or commercial move.
Sit back and relax while Sueland Moving moves your belongings to your new residence or commercial location.
Sueland Moving helps set up your next home, office or commercial space so you can start enjoying your new location right away!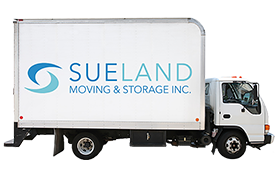 Use the form below to contact us. We will get back to you within 24 hours during normal business hours.