Residential Moving in Hamilton
Moving Services in Hamilton
If you're making a choice to move, whether you're an empty nester, have a growing family or simply need a change, Hamilton (or Steeltown as it's affectionately known by) is a beautiful city to consider. With 130 waterfalls, the Dundurn Castle mansion, Bruce Trail, and the largest Botanical Gardens in Canada, Hamilton has something to offer for everyone.
Sueland Moving & Storage Inc. provides moving services in Hamilton and surrounding areas. Our Hamilton movers are well-trained and familiar with the region. We promise to deliver the top notch, professional and honest services we are known for. It starts with you by clicking on the quote icon and completing your request. Or, you can just call our office. As well-known Hamilton movers, we guarantee all-inclusive pricing and no hidden fees. 
We understand that moving can be a stressful time, therefore, we aim to provide a seamless transition from one home to another.Sueland's Hamilton movers are available to help with any size of move, large or small. We also offer useful tips on how to make your moving day as smooth as possible. Rather than inconveniencing your friends, hire professional Hamilton movers who will arrive on time and handle your items with care. In hiring us, you'll receive exceptional customer service and a moving experience that won't disappoint. 
Contact us
and we'll take the stress out of your move!
Leave the Logistics to Sueland Moving!
Sueland Moving begins by taking a close look at the exact inventory of your move, the precise factors of the locations we need to navigate, and how to best protect your home and your possessions during the moving process.
Whether commercial or residential, Sueland Moving makes it easy and here's how:
Movers are Professionally Trained
and uniformed!
Excellent Customer Service
making each move the perfect move!
Double Wrapping of Furniture
for all moves and storage!
On time for Pick-ups & Deliveries
for all locations in the GTA!
4 steps
to a stress-free move!
Contact Sueland Moving & Storage Inc. through email, quote form, or by calling our Toronto or Etobicoke office.
Your Sueland Moving Relocation Consultant plans every detail of your residential or commercial move.
Sit back and relax while Sueland Moving moves your belongings to your new residence or commercial location.
Sueland Moving helps set up your next home, office or commercial space so you can start enjoying your new location right away!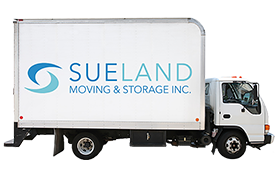 Use the form below to contact us. We will get back to you within 24 hours during normal business hours.